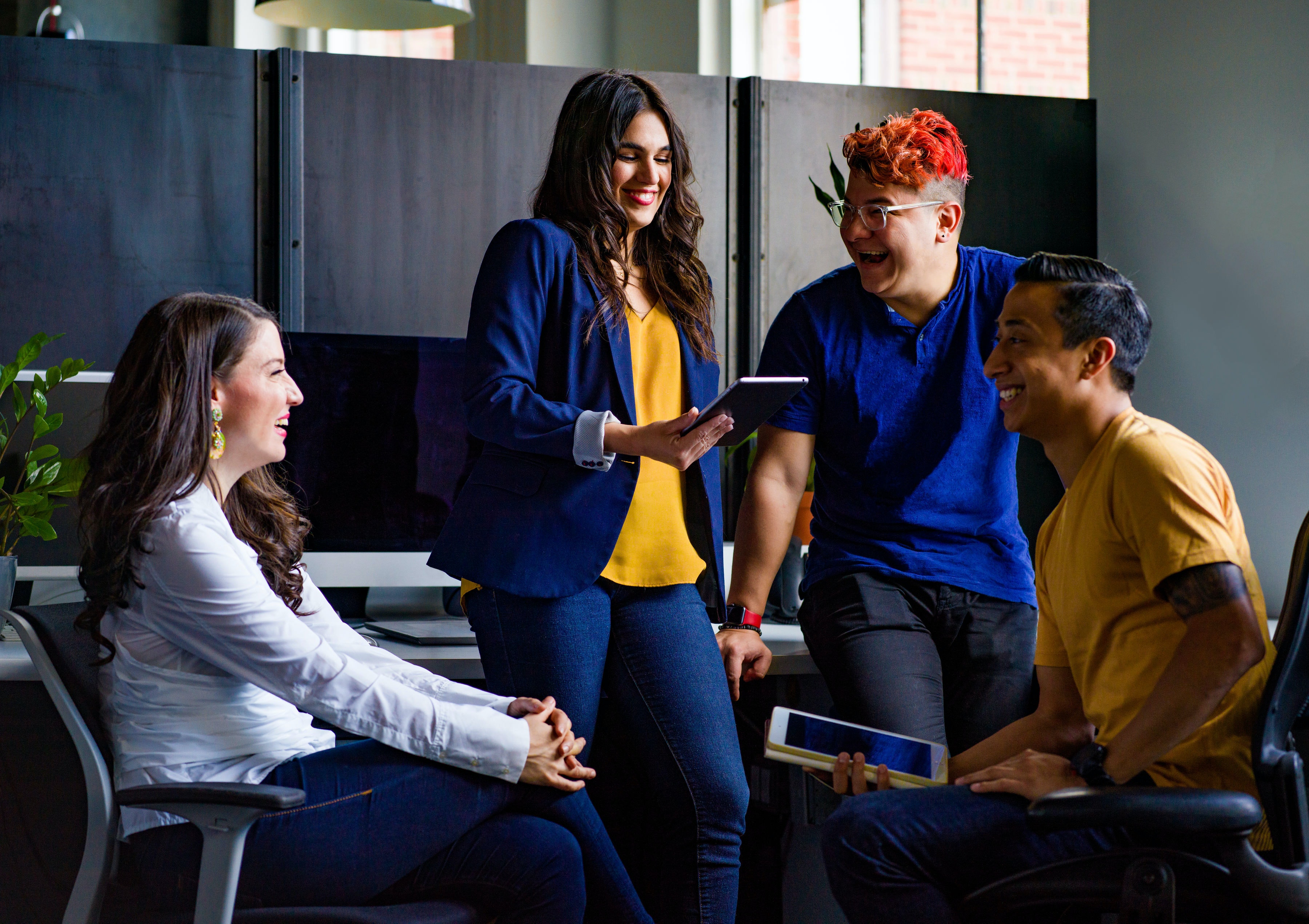 Mastering internal communications for the modern workplace
Getting your internal communications spot-on can be a challenge. There's a lot of elements to consider, but mastering it can do wonders for your business. Your internal communications strategy can boost employee engagement, productivity, and retention.
But 60% of employers don't have a long-term internal communications strategy. Many businesses rely on emails and memos and the hope that employees read them. Not having an internal comms strategy is a surefire way to reduce employee engagement and attachment to your business.
If you're looking to update your internal communications, we've got you covered. This guide will help you to master internal comms and boost your employee engagement and productivity.
A brief history of internal communications
In theory, good internal communications are relatively simple. They're essentially any form of delivering information within a team. They communicate vital information to inform the whole team and connect them to the business.
In reality, internal communications are a little more complex, and something many businesses struggle with — over 70% of employees feel they miss out on company news. As a concept, it's only existed for just over 100 years, so it is constantly evolving — especially in the last two years. Here's a quick timeline of the history of internal communications:
The 1920s: Research shows that to boost employee engagement, they need to feel emotionally connected to the business they work for.
The 1930s: Businesses start to adopt internal communication strategies.
The 1960s: Douglas McGregor's book Human Side of Enterprise establishes internal communications theory.
The 1990s: Trickle-down communication from leaders to employees started to become the norm.
The 2000s: Businesses become more transparent with their teams due to the internet and access to information.
What are modern internal communications?
Since the 2000s, internal communications have been through another significant change. Due to the Coronavirus pandemic and increased remote working, forms of contact for the office had to adapt to employees working from home.
There are five primary forms of modern internal communications:
Management and senior leaders
Internal communications from management and senior leaders are usually in the form of:
Company updates
Strategy changes
Campaign results.
If you are a leader in your business, you must be a great internal communicator. Good internal communication helps keep employees engaged and informed. They also help staff to feel more connected to your company and take more pride in their work. Making management accessible with easy-to-use communication channels helps employees feel engaged.
Sharing between peers
Often mistaken for office gossip, peer-to-peer communication is vital for sharing information. Encouraging employees to engage with one another allows them to share information. It also allows them to use their collective knowledge to be more effective.
But it's not just knowledge sharing that peer sharing can help. In a world with more and more remote workers, peer sharing can also allow colleagues to support each other emotionally.
Internal communication between team members
Collaboration between team members working on the same project is crucial to achieving their goals. You can't share ideas and goals without communication and cooperation between colleagues. Unsurprisingly, teamwork is vital for success, but it requires the right tools — especially if your team is remote. Tools like Slack make it easy for colleagues to communicate and stay on top of projects.
Informal workplace communication
Informal chats between team members are often discouraged by management. In a lot of workplaces, employers view it as slacking off. But it's an effective form of internal communication. A study by LinkedIn found that nearly 50% of employees are happier, more effective, and engaged when they have friends at work.
Plus, the informal chats between colleagues are often the source of new ideas that wouldn't have arisen in other forms of communication.
Internal communication resources
Most internal communications rely on speaking. But access to information is vital in any communication strategy. Creating a  database of informational documents and videos boosts productivity and employee engagement.
While it might be a challenge to put a knowledge base together, it can save your team a tonne of time.
Forms of internal communication
Team members will pass a lot of information verbally. But good internal communications also rely on electronic and paper-based communication channels. These channels include:
Company intranet
Emails
Social media
Video calls
Phone calls
Memos
Instant messaging software
Video announcement and training.
Why are internal communications critical?
It can be tempting for businesses to stick with what they know — especially for older companies. Sticking to tried and tested methods might feel like the safe option, but it reduces engagement and decreases retention. Here are just some of the benefits of having a modern internal communication strategy:
Keeps your entire team informed
Improves employee experience
Allows your entire organisation to align
Enables team members to collaborate to solve problems
Increases your business's external reputation.
Common internal communication issues
Being able to spot issues in your communication strategy is crucial if you're looking for improvements. You can easily damage existing communications by making changes based on industry trends. Some common internal communication issues affect businesses, such as:
Lack of feedback from senior leaders and management
Too many emails and memos — Over 60% of emails sent are unnecessary
No direct lines of communication between team members and management
A time-consuming and inefficient onboarding process
Too many phone calls and meetings
Constant sharing of irrelevant or unimportant information.
If you've noticed any of these in your strategy, there are likely some improvements you can make.
5 steps to improve and master your internal communications
Step 1: Assess your current communications
Before you can start making changes to your strategy, you need to understand what you're already doing well and, more importantly, what's not working. This kind of assessment can take many forms, but it's essential to:
Measure employee engagement
Assess team productivity
Get feedback from team members.
Step 2: Define your objectives
Once you've assessed your current strategy, you need to define the objectives of your new plan. These objectives can include:
Improving your company culture
Increasing your employee retention rate
Boosting employee engagement
Leveling up your company's innovation.
Step 3: Understand your different audiences
Just as you would separate your audience for external marketing, you need to do the same for internal communications. Every company has different audiences; these can include:
Executive-level management (C-suite)
Frontline workers
Remote employees
Contractors and freelancers
Stakeholders and shareholders.
Each of these segments requires different information from internal communications. For example, if you are making a company announcement, shareholders will need information on how it will affect the bottom line. In contrast, frontline workers will need to know how it will change procedures and their day-to-day lives.
Step 4: Invest in communication channels that work for your business
Every year we see new internal communication trends and none more so than throughout Covid-19. Coronavirus made companies re-evaluate their internal comms due to remote working. Many followed the trends blindly in their efforts to cope with the changing working environment. Successful internal communications rely on finding channels that work for your company. Examples of different channels include:
Podcasts
Blogs
Surveys
Instant messaging
Video meetings.
Throughout the pandemic, one trend that worked for many businesses was integrating on-demand videos into their communications. Video software lets companies make engaging videos to share information easily.
Step 5: Measure success and welcome feedback
As with any communication strategy, you need to measure the success of your internal communications. By introducing more interactive and engaging elements into your plan, you'll be able to track the metrics. For example, if you use a video to share a company announcement, you can follow:
Number of views
How long people were watching.
With the metrics, you'll be able to optimise your videos to be the perfect length while still conveying critical information.  It's also important to encourage feedback from your team. They will be able to provide insight as users of the channels that are unavailable to you.
Ready to master your internal communication strategy with videos? VIBBIO is an easy-to-use video creation maker that makes internal communications easy. Join for free to start making your videos today.
Ready to start creating videos?
Get started with a 7-day trial. No credit card required.