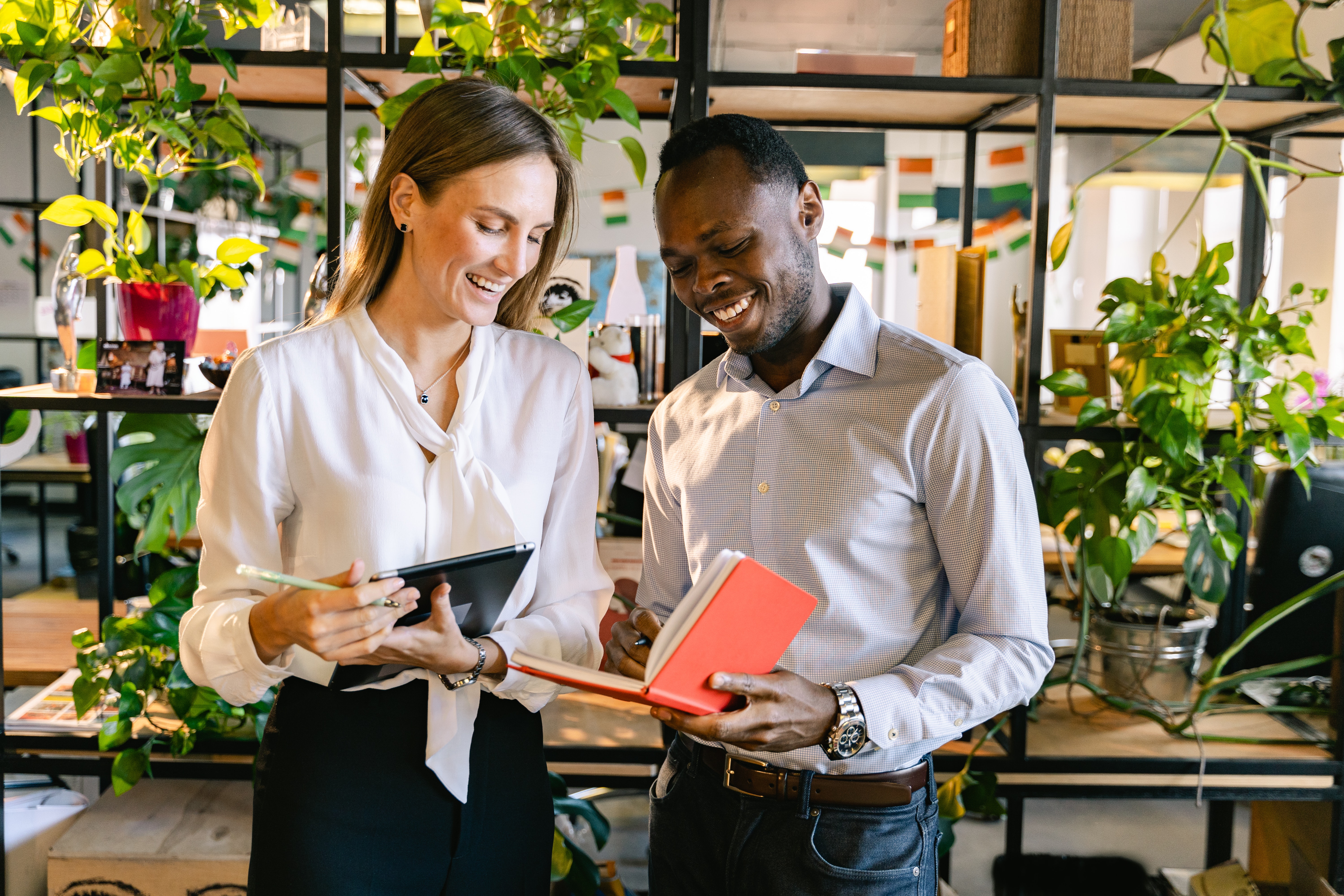 How to perfect employee training with asynchronous videos
Using videos for employee training isn't a new idea. You might remember the old days of corporate VHS training courses. But the days of cheesy, generic videos are behind us — or they should be. Unfortunately, many businesses still rely on generic videos for their employee training. These videos do the job, but they probably won't do much for employee performance and engagement.
Many businesses are using videos to cut the costs of training. Microsoft cut their training costs per team member by over $300 using video training. Across the board, businesses are switching to video training to save money and boost engagement and employee retention rates. It's easy to see why 75% of employees prefer to watch a video than to read an article, and over 85% of young executives choose to work for tech-savvy companies. Plus, using video training can increase retention by over 30%. Not too bad for creating a few videos, right?
But while it might be easy for big tech companies like Microsoft to adopt new video technology, it's a little more daunting for smaller businesses. Even the word "asynchronous" is a bit scary — and all it essentially means is on-demand.
To give you a hand getting your employee training program up to speed with videos, here's everything you need to know about asynchronous training videos. Our guide includes the benefits of videos and will show you how to create compelling training videos.
Why use videos in your employee training programs?
Employee training programs take a lot of planning to be effective. If you've already got one in place, you might be wondering: Why go to all the effort of changing it just to include some videos? Well, here are just a few reasons:
Boosts engagement
Increases retention of knowledge
Allows staff to learn at their own pace
It's very cost-effective
Videos are proven to be more effective than other training methods as employees are more likely to remember images than words. The blend of multiple communication methods in videos means that they are far more engaging.
But one of the most significant advantages of using video for your employee training is that your team can access them anytime from anywhere. Remote and flexible working has shown us that we're not all productive at the same time; some of us are great first thing in the morning, others need a bit of time to warm up first, and some of us like burning the midnight oil. Traditional employee training programs were often confined to specific times due to technology and the need for in-person training, but using videos means your team can learn when it works for them.
What types of training can I use videos for?
The sky's the limit when it comes to using videos for on-the-job training and career development opportunities. But here are just some of the ways you can use videos for training:
Business goals training
Systems training
Role-specific training
Technical training
Fire safety training
Health and safety training
HR guidance
Leadership training.
There are almost no areas of your development program that you can't include videos in. While training employees will always require some face-to-face time, you can use videos to streamline your processes and make it a more effective employee training program by using a variety of different video formats, such as:
Instructor-led videos: These are an on-demand version of in-person training. The instructor speaks directly to the camera and gives the same information as a traditional training session.
Screen capture videos: These are perfect for software tutorials and demos as the instructor can show what the viewer needs to do. They can pause the video, try it and rewind if it's not quite right.
How-to videos: Similar to screen capture videos, how-tos are perfect for sharing processes quickly and easily.
Interactive videos: A little more complex than other videos, interactive videos are very effective for learning. They allow the viewer to engage with the video and enhance the learning experience.
Employee-created video: Not all training videos need to be created by senior management. Your team members have specific knowledge that they can use to create videos from an employee perspective. During onboarding, you can also use these videos as a handover if the person who previously held the post has left.
Example of how an onboarding video might look like.
How do I create effective employee training videos?
By now, hopefully, you're convinced about how effective videos can be for your employee training and development. But the jump from the idea of using videos to actually using them can be daunting — especially if you're not particularly tech-oriented. Fortunately, it's not as difficult as you might think — if you have the right tools and software.
First up, you need to decide what kind of video you're going to be making. From there you can choose the equipment that you'll need. Before you panic, all you'll need is your laptop or phone camera and a decent microphone for most training videos. But if you're making a slightly more complex video or really want to wow your team, you might need:
HD camera
Tripod
Lighting kit
Microphone
Video editing software.
Once you've got that sorted, there are five steps to creating a top-notch training video for your team:
Step 1 — Goals and objectives
Your training video isn't going to help your team if you're not sure what you're trying to do with the video. Most of the time, your goals and objectives for a video will be pretty obvious: "I need to train my staff to use..." But you need to dig into what you want your team to get out of the training video.
Once you've got your goal, you need to contemplate your audience and work out the best way to communicate effectively with them. Look at their demographics and roles in the company and try to put yourself in their shoes when making the video.
Step 2 — Planning your video
No good training video has ever been created by just sitting down in front of the camera and hitting the record. Although you're not making a Hollywood blockbuster, try to adopt their detailed approach to planning. When you're planning your video, think about:
Do you need any help creating the video from team members?
What format is your video going to be in?
What equipment do you need for the video?
Following that, put pen to paper and work out the scope of your project. It may be that your initial idea for a video will work better as a series of shorter videos. Plan out what the training needs to cover and think about the best way to communicate the information.
Step 3 — Script
When you watch a video, it'll often appear as if the person on screen is working without a script, and they're just that good. In all probability, they're not. But a good script has the power to make itself seem invisible. It's essential to put together a good script for your training video. Again, we're not looking for an Oscar-winning monologue, but you want your dialogue to be smooth and not littered with "ums" "ahs" and "terms".
A compelling training video needs to be well written and easy to understand. If writing isn't your forte, it's pretty daunting. If you've got a marketing department, you can always rope in a copywriter, but if not, here's a straightforward way to write a good script:
Create an outline — This is the easiest way to make sure that you cover everything the video needs.
Dedicate time to writing — Writing isn't always easy, so dedicate some time to focus on the video script.
Speak, don't write — One of the tell-tale signs of a bad script is that it sounds written and not spoken. When you're writing, read aloud or use voice to text software. This will help you to create the conversational tone you need for a successful training video.
Throw jargon in the junk — Jargon is excellent in certain circumstances, like impressing potential clients, but your team will probably know all the terminology already. Cut it from your script and write in short, simple sentences. If you're struggling with this, you can use software like Hemingway to help you make your writing easier to digest.
Edit. Rewrite. Edit again — As tempting as it'll be to start creating your video as soon as your script is complete, resist. To paraphrase Hemingway, "The first draft of anything is bad." Trust us; you'll want to edit your script heavily. This will help make the script more concise, but it will help you to memorise sections and make it sound more natural — rope in another team member to help you edit for a fresh perspective.
Step 4 — Lights, camera, action!
This stage changes significantly depending on the type of video you're creating. For this example, we'll go with a traditional instructor-led video. For this type of video, you'll need a camera, but with the right set-up, you can even use a mobile phone to create a professional-looking video. Here are our tips to getting your instructor-led video spot-on:
Plan the shoot — Pick a time, date, and location and make sure anybody helping you is available.
Get the right background — You want your video to look good; find a space that's quiet enough to film but also has an appealing backdrop for your video.
Find an area with good lighting — You can either find a place with good natural light or use artificial light. Using a mixture of the two will have worse results than using one or the other.
Always use a tripod — Regardless of how steady your camera person thinks their hands are, they will shake at some point. Using a tripod removes any shake and means you can film the video on your own if you need to.
Get the framing right — The rule of thirds is an integral part of photography; familiarise yourself with this to get your framing right. Try to be either dead center of the frame or to the left or right, about a third of the way from the edge of the frame.
Once you've got everything set up, start filming. Make sure that you do multiple takes — even if you think you nailed the first one. That way, you make sure you have the best possible video. After filming, use your video maker to add any visuals and music, and you're good to go.
Check out this video to learn how to shoot quality video clips with your phone:
Step 5 — The big premiere
Unfortunately, you won't get a red carpet after you've created your employee training video, but that doesn't mean you can't premiere it in some way. The way you distribute your video will change depending on your organisation, but here are a few standard methods:
Add it to your business's learning management system
Share it on your company Slack channels
Add it to the next company email
Link to it from your company's intranet.
After the video has been used as an active part of your employee training program, you can use the data from the video to look for ways to improve it. Although the improvements may be minor, they'll make you aware of ways to make your next employee training video even better.
Make your training efforts count by using VIBBIO, the easy-to-use video creation tool that makes employee training a doddle. Try it today for free.
Create training videos with ease
Get started with a 7-day trial. No credit card required