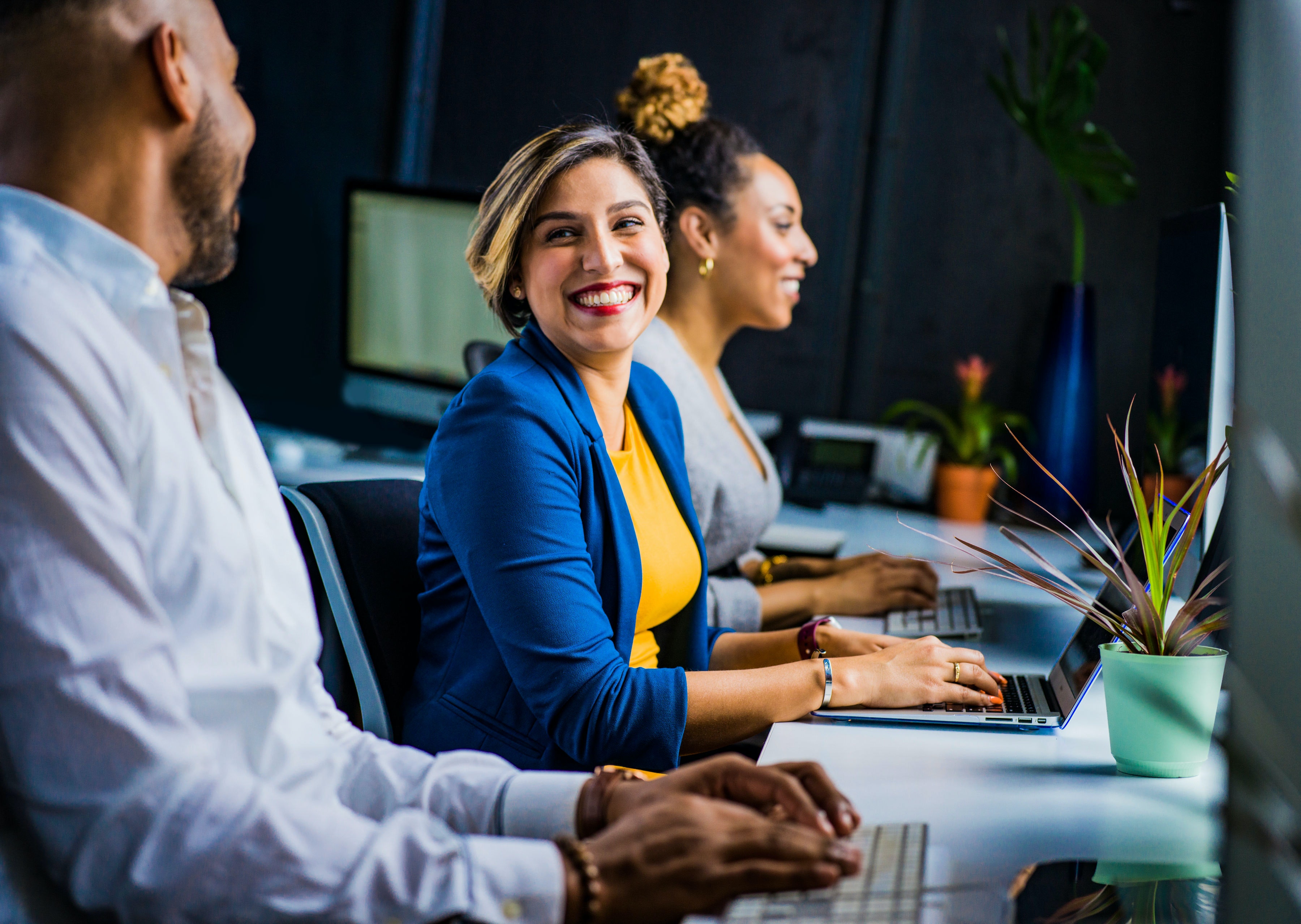 3 ways video can enhance your employee onboarding process
The hiring process is over. No more screening candidates and asking, "What can you bring to this role?" The handshakes have taken place, your new hire has signed on the dotted line, and the start date is coming up. But your work isn't quite over yet; it's time to start your new hire onboarding process. Fortunately, this stage of the hiring process can be a lot of fun — if you do it right.
Before your new employee starts their first day, you need to have a solid onboarding process in place. This ensures their first experience with your company goes smoothly and is enjoyable. But a good onboarding process goes beyond just making sure you impress your new hires; it can have a significant impact on your business too.
A recent study showed that companies with effective onboarding procedures achieve 3.5 times more revenue growth than those with a poor employee onboarding process. Plus, a successful onboarding can increase the retention of staff and boost the employee's performance.
The good news is that it's easy to stand out from the crowd with your onboarding process, as only 12% of employees had satisfactory onboarding experiences. But why settle for satisfactory when you can go for excellent? Using videos for onboarding new hires not only makes the process better but easier for everyone. Find out everything you need to know about employee onboarding and how you can use videos to nail it.
What is an employee onboarding process?
You may have heard the term "onboarding" or just read it in the introduction above and not been sure what it means. Onboarding is a human resources term that refers to the process of getting a new employee to grips with your business or organisation. Good onboarding is about more than just showing your new employee the human resource information system and handbook; it works wonders for employee performance and has many business benefits. There are several goals for an onboarding strategy that can include:
Informing your new hire about your company culture, mission, and vision for the future.
Setting goals and expectations for their role and job duties.
Training for both their specific job functions and broader company-wide tasks
Exciting the new employee about their new role.
Essentially, it's a process for new hires that helps them integrate with the rest of the team and feel confident in their new role. The entire process of onboarding can take anywhere from a couple of weeks to a year and will usually include:
The job offer
Negotiations on salary
New hire paperwork
Company culture and policy training
Skills training
Familiarisation with the company handbook.
An effective onboarding process will be finely tuned by both the HR team and hiring managers to ensure employer and employee satisfaction following onboarding.
3 ways video can improve your onboarding process
When new employees start, there's a _lot _for them to get to grips with. Company policies, paperwork, company software, and that's all on their first day. Within the first week, they can easily get overwhelmed and might be completely lost after the first few weeks. New employee onboarding is crucial for helping new team members adjust to their new job, but the onboarding phase can be daunting even without a good process in place.
Videos are a great alternative to piles of paperwork and hours of one-to-ones with the new employee's direct managers, HR professionals, and team members. Here are three of the biggest ways using videos can enhance your onboarding process:
Engage your new hires
At the start of most new jobs, there's a ton of paperwork. Once you get past the contract and new hire paperwork, there's a lot of information that your new employee needs to read and remember. Reading endless reams of text about company culture, processes, and vision is dull regardless of how exciting your business is. Your new hires will be struggling to keep their eyes open, and that's going to kill their engagement.
Most of us can only remember about 10% of what we read, but studies show that we can remember more than 90% of what we learn through video. Using videos in your onboarding process means that your new employees will actually remember what they've learned, which will make them far more effective as a member of your team.
Show, don't tell
An element that appears on employee onboarding checklists at almost every business is the company handbook. It's a crucial element of onboarding as it gives your new hire all the information they need about the company, what it does and why, and gives them guidelines for their employment. But how many company handbooks have you skimmed or put down without even slightly breaking the spine? Most of us will only ever read our handbooks when there's something wrong, and we need to check a policy.
So why not take the "book" out of the handbook? Transform your company guidelines into an interactive video that keeps your new employees engaged and informed about their new employer.
The more hands-on elements of a new employee onboarding process like meeting the team and management teams and learning software can be far more effective when converted to video form. They ensure consistency for instructions and information and don't rely on the availability of other team members.
Speed up your onboarding process
Have you ever been reading over someone's shoulder and got fed up waiting for them to catch up and turn the page? We all read at different speeds, so if you're bombarding your new employees with paperwork and documents to read, there's no way of gauging how long it will take.
But we can all watch videos at more or less the same speed. Some of us might need to rewind for clarification, but the time difference between two people watching a video will be marginal. Unless you only hire speed readers, it could take new employees a whole day to read the handbook. But if you use videos, they could watch several in one day with breaks to digest the information.
This will speed up your onboarding process, and it will give your new employees a chance to get to know other employees, different teams, line managers, and the company, which will help with the social and performance aspects of onboarding. Plus, a faster onboarding process for new employees means that your new hire won't get frustrated by not getting on with their exciting new job.
5 types of onboarding videos you can use
You can use videos to cover almost every aspect of your business's onboarding process. The videos you create will be specific to your business, the information they need to cover, and the job function.
But whatever your business does, there are some universal videos that the majority of companies can use in their onboarding strategy and make your new employee's experience incredible. We've put together our top five onboarding videos to give you some inspiration for your new strategy.
Welcome to the team video
The first onboarding video is your opportunity to give a warm welcome on your employee's first day. Usually, the new hire's manager will make this video, but it can include a message from the CEO, co-workers, and the employee's team.
Your welcome package video goes beyond just giving your new team member a friendly "hello" to settle nerves on the first day; it's an elevator pitch for your business. Typically, a welcome video will create opportunities to:
Help new hires adjust and feel at home in their new work environment
Communicate your business's mission and vision
Answer your new hire's questions.
This video will usually be shown on your new hire's start date to get them to grips with the inner workings of your company and fire them up for their new job and training.
Tech support video(s)
One of the most significant adjustments for new hires is getting used to new technology, processes, and workflows. Regardless of how tech-savvy new employees are, there's bound to be something they've not come across before, and tech setup videos are a perfect way to get the employee set up quickly.
New employees are often given written guides for new processes and tools that are jargon-heavy, technical, and headache-inducing. With videos or a library of video tutorials, your new team member can see how to set it up correctly and rewatch sections to clarify anything they may have missed. Plus, if at a later stage, they've forgotten something, they can quickly remind themself by rewatching the video.
The handover video
Most of the time, when a business employs a new person, they're replacing somebody that has left the company. This usually means that the employee's first few weeks will be spent getting to grips with what their predecessor did.
By creating a handover video before your old employee leaves, they can share knowledge, skills, and hacks with their replacement so that the new hire can get up to speed and start contributing to your business.
Employee handbook video
Almost every company has a handbook and key policies that a new colleague needs to be briefed on. But why stick to the physical rule book? Switch it up and use videos to cover all the usual HR topics, such as:
Code of conduct
Code of ethics
Harassment and discrimination policies
Cybersecurity.
But your employee handbook video doesn't need to be boring and serious; you can include sections on:
Company culture
Values
Vision.
A policies video is your chance to let your new hire experience your business from the inside in an engaging way that supports face-to-face HR training.
Skills training video(s)
Your new hire will probably already have some of the skills their role requires but even the very best new employee will need to learn a thing or two about their new job. Training takes time, and while many businesses throw as much information as possible at new starters, it doesn't work, and it's poor people management.
Don't send your new hire's brain into overload with tonnes of information straight away. Create bite-size skills training videos that drip the information your new employee needs over time. This way, they will learn it, digest it and use it when their training is over.
Ready to upgrade your onboarding process with video?
With our onboarding videos, making your new hires feel instantly part of the team is easier than you think with our video technology. VIBBIO lets you easily record your screen for training sessions and make great videos with just a webcam or phone. Plus, you get access to stock images, clips, and music to make your videos more engaging.
Plus, using videos to engage your employees goes well beyond onboarding and can be used for encouraging employee growth, engaging internal communications, and recruiting new team members.
Wave goodbye to bad onboarding. VIBBIO's video maker can help you enhance your employee onboarding experience, with easy-to-make and engaging videos. Join for free to start making your onboarding videos now.
Create professional videos with ease
Get started with a 7-day trial. No credit card required.